Sheesh. A girl moves to a new house and the next thing you know, she ups and disappears on you. So, you may or may not have wondered where I disappeared to. If you haven't wondered, well, I'm going to tell you anyway. Allow me to sum up. Here's what I've been up to for the last couple of months.
1. I moved into a new home.
If you are a regular follower this is not news. If you are new to these parts, let me just say that 21 houses in 24.5 years of marriage takes its toll. I still have boxes everywhere and have yet to figure out where I am going to put things.
I do not have a working living room area. When we were buying the house, the floor wasn't finished in the living room and I was not excited about the laminate flooring the previous owner was about to install. I asked if he would not install it as I wanted something different, but I failed to negotiate a credit for the cost of the flooring. Hard wood is expensive, people! I'm saving up for it, but in the meantime, the Daja and I thought it would be a good time to start a project.
Ryley is cleaning the piano in preparation for the paint. I've never liked blonde wood and this piano has been on my To Do list for a couple of years. Since it is actually the girl's piano and I'm just housing it for her until she has her own home, I let her decide how we were going to paint it. It was an ambitious project and it is still waiting to be completed. It's going to have to wait a little longer.
My kitchen is a disaster zone, but that's my fault for ripping it apart. All I really wanted to do was tear down the wallpaper and get rid of the carpet in the kitchen. Is that too much to ask? Is it? Apparently, it is. It was soon obvious that those two tasks would not be as easy as I'd hoped.
I have lovingly taken to calling our new home the Hydra house. If you recall your Greek mythology, the Hydra was a creature that grew two heads every time one was cut off.
That pretty much describes our house. For every problem we solve, two more pop up in its place.
On the up side, we have a new water heater, dehumidifier and a chicken coop. The ladies are all settled back into their new home, although Hubs has been working to make a heated water bucket for them. He excitedly showed me the chicken nipples he received yesterday for the bucket. Yeah. We're weird like that.
2. I am driving my life away. Literally.
Since the beginning of summer, I have put 8,000 miles on my car. That's 8 THOUSAND miles in the last 5 months! I wish I were joking. A thousand of those miles were spent on our family trip to Washington DC. The rest of the miles can almost all be attributed to this kid.
Some of our miles were clocked running him back and forth to the Boy Scout Camp (1 hour north of us) a couple of times a week because Buddy worked up at the camp as a lifeguard. Some of the miles came from his band activities. Buddy was the drum major for the high school marching band. Parades and games and band camp meant more driving.
By the way, Katie, my sister-in-law with Down Syndrome who lives with us, absolutely ADORES Buddy's band stuff. She gets super excited for any and all band performances. Here, she is demonstrating her mad skills with the mace.
It is completely adorable how thrilled she gets for the band stuff. It is one of her few happy places. Katie's default mode runs toward the surly, so any time we can find something that brings out a smile, we are more than willing to spend time on those things.
Kiddo is also in the band, but he joined too late to march this year. He is learning to play the tuba, though, and will join the band next year. Katie will be beside herself with glee.
The main driving activity that has sucked the very life out of me has been school. Buddy is doing a college program for his junior and senior year. It is a dual program that will give him both high school and college credit. He will graduate from high school with an Associates degree in electromechanical engineering. The problem is that Buddy doesn't drive yet and the college is a 30 minute drive from our house. To add to that, Kiddo is still attending school in our old district, which is another 20 minutes in the car to pick him up from school each day.
Seriously. I need to figure out a way to work on my home and do projects while I am driving. I'll let you know if I come up with anything, but right now it's super hard to get involved in a project only to have to stop and go pick someone up or drop them off somewhere.
3. I'm Sick and Tired.
Again, I mean this literally. Excuse me for sharing, because I really don't like to air all my aches and pains for fear of sounding like one of those old people who tells you about the quality of their bowel movements when you ask how they are. But, since this post is all about excuses, this is one of mine.
The month of August (yeah, the same month we were moving) my body decided that would be a swell time to try and pass a kidney stone. It really wasn't. A good time, that is. Nor, do I think I actually fully passed the stone. I think it's still in there waiting to flare up at another super inconvenient time. I haven't wanted to go to the doctor to figure it out.
I don't like my doctor. He's a jerk. His bedside manner is non-existent and he HATES it if I make any kind of the tiniest suggestion that I might have some idea what is going on with my body. It's almost as if he will actually try to disprove what I think is going on. So, if I went to him and said I think I have a kidney stone (I've had 3 of them already so I'm pretty familiar with the symptoms) he'd probably try to convince me it's arthritis.
If you are wondering why I just don't change doctors, trust me, I have strongly considered it. But if you've never lived in a small town, let me tell you that quality doctors are not exactly thick on the ground. And ones that accept new patients are even more difficult to find. He does actually listen to me on occasion and I'm learning the right way to talk to him to get better results.
After we moved, I had a flare up of the ol' depression. Big surprise considering all the life changes and the sickness and the lack of projects to take the edge off.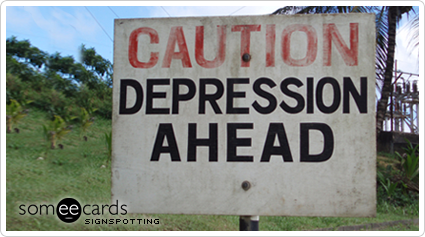 It was one of those bouts of depression that is sneakier than the rest. This actually sums it up quite well.
It often takes me a while to figure out when I am excessively tired that it is depression. However, I heard a psychiatrist once say that when excessive fatigue is interfering with the normal routine of your life, then it is depression. Not that I haven't had plenty of reasons to be tired, but I have been on the depression bandwagon long enough to recognize the signs for me. It just always takes me longer when my depression manifests as fatigue instead of sadness or the other ways I have discussed in the past.
Suffice it to say, that there has been a lot of this going on.
I also discovered I have two bulging discs in my neck, as well as carpal tunnel which is causing my right hand to go numb All. The. Time. It's hugely annoying. I'm waiting for a referral to figure out what my options are. I currently spend a great deal of my time trying to find a position for my hand/arm that doesn't cause constant tingling in my fingers.
4. My Baby Girl is Going on a Mission
If you don't know, my family belongs to The Church of Jesus Christ of Latter-day Saints, aka the Mormon church. My daughter decided a few months ago that she wanted to go on a mission. She received her mission call in August and was called to serve in the Sacramento, California mission. She will be speaking Spanish on her mission. She goes into the Mission Training Center (MTC) in Provo, Utah on November 14th. We are so proud of her, but I am going to miss that girl like crazy.
She has been living in Provo for the last few years, and I've only gotten to see her in the Spring and at holidays during that time, but she and I text or talk on the phone multiple times a week. She is not only my daughter, but also my friend.
One of the rules of the mission life is that you can not call your family. You can write a letter once a week, but no texting or Facebook or Skype or calls. She will be gone for 18 months and I will only get a phone call on Mother's day and Christmas. She will be in the MTC this Christmas, but I actually won't get to speak to her then, since there are just too many missionaries to be able to let them all call home.
She came home from Provo in mid-September to be with us until it is time for her mission. Since I have such a short time with her, I have been trying to just enjoy our time together and not bog myself down with projects that distract me from her. She is such a delightful daughter and I am so proud of the beautiful woman she is becoming.
She is a sneak-thief, though. While running errands for me one day, she came across a lady giving away kittens at a gas station. She could not resist and ended up bringing home a kitten. She happened to have my credit card on her at the time so she was able to buy all the kitten supplies she needed. She successfully hid the cat from us for a week before we figured out we had a new family member. Good thing he's cute and Katie loves him. Otherwise, he'd be outta here.
Remember how I said we tend to go with things that makes Katie smile? Well, she not only smiles, but also talks to the kitty. It's rare for her to initiate conversation of any kind, but she becomes very animated around him and is so playful and happy with the kitty that it looks like we have new family member.
Katie calls the kitten Tiger, but Ryley actually named him Adam Levine, so she can say funny things like, "I just snuggled with Adam Levine for two hours!" or "Adam Levine, stop licking my face!" That girl cracks me up.
Both of my fur children decided I need their love on my feet the other night. I am currently sick, again. I have a bad cold and they must have figured I needed the extra love.
So, there you have it. My essay on why I haven't been blogging. I have managed a project or two here and there. I did decorate my dining room, which is the only room to have received any kind of attention. I was in a mood and needed some pretty in my life. We are working on some sewing projects for Miss Ryley's mission, so it's kind of destroyed again.
*Sigh* One day, soon, I will not be driving thither and yon or playing with my girl or sleeping or recovering from one illness or another. And on THAT day, I promise you, I will have a tool in my hand and a project will ensue. I swear it.
Suesan